With major package and less-than-truckload carriers like FedEx, UPS, YRC Freight, Old Dominion Freight Line, Estes Express Lines and others making use of dimensional weight pricing, it's become more important for shippers to learn how to calculate the dimensional weight of their large freight and parcels.
With that in mind, we've provided a formula, along with a couple tips to help you do just that.
The Dim Weight Formula
The formula for calculating dimensional weight is simple. Just multiply the length, width and height of your package or palletized freight, then divide that total by the divisor number used by your carrier. In 2017, both FedEx and UPS are using divisor numbers of 139 and 166 (for daily or retail rates), which would make the formula look like this: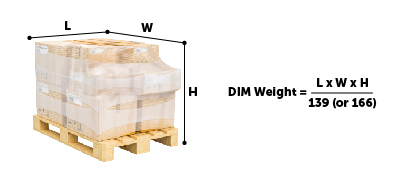 Things To Keep In Mind When Measuring Your Freight
While plugging your measurements into the DIM weight formula is straight forward, finding the correct dimensions can be tricky – especially for irregularly-shaped palletized freight. To ensure that your dimensions are as accurate as possible, account for any protrusions sticking out from the main bulk of your freight. Likewise, make sure to factor in any areas that overhang your pallet.
If Shipping High Volume …
Even for practiced employees, it can be difficult, time consuming and even impractical to measure every pallet or parcel by hand. If you regularly ship a high volume of freight through carriers using dimensional weight pricing models, an automatic dimensioner may be your best solution. Automatic dimensioners capture NTEP-certified measurements in seconds, and can even calculate dimensional weight when incorporated with a scale. These automatic cubing solutions are available for both palletized freight and small packages, and can help you streamline your tendering process.
For more articles like this, subscribe to our newsletter!

Was this article helpful?

Michael Eichenberg is the co-founder and CEO of FreightSnap, allowing the supply chain, logistics, manufacturing, distribution and transportation industries to measure, weigh, photograph and ID pallets and parcels in just seconds. Learn more and share your ideas on Facebook and LinkedIn.