FS 5000 Pallet Dimensioning System
Streamlined Workflow, Unmatched Accuracy.
FreightSnap's flagship dimensioning system. Experience the power of precision with the FS 5000 pallet dimensioner, a game-changer in freight management that effortlessly captures weight and dimensions of your palletized freight, streamlining your operations and boosting efficiency.
FS Parcel Flex Dimensioning System
Flexibility Meets Precision. Transform Your Parcel Management.
The FS Parcel Flex is a revolution in parcel dimensioning, combining speed, accuracy, and efficiency to capture precise weight and dimensions of your parcels in real-time. Seamlessly integrating with your existing systems, it provides actionable data, empowering you to make informed decisions and drive your business forward in the competitive world of parcel logistics.

FS Parcel Dimensioning System
Quality Meets Versatility. Your Conveyor's Perfect Companion.
Explore the FS Parcel, FreightSnap's robust static package dimensioning system. Designed with an industrial frame and the option of a custom-built roller top scale, it seamlessly integrates into your logistics workflow. Enhance efficiency and transform your shipping process with this versatile and innovative solution.
FS Parcel In-Motion Dimensioning System
Fast. Accurate. Reliable. Revolutionizing Parcel Management.
Engineered for demanding logistics workloads, the FS Parcel In-Motion dimensioning system offers high-accuracy measurements on all package shapes at rapid speeds. Integrating with existing conveyors, it's a perfect blend of precision and productivity, revolutionizing your shipping process with FreightSnap's innovative technology.
Image Station
Innovation in Freight Management. Capture, Record, Share.
Enhance your freight documentation process with the FS Image Station. With four cameras, this automated solution captures essential freight details quickly and integrates effortlessly with warehouse systems. Designed to save time and reduce costs, the FS Image Station is a valuable addition to any logistics operation.
Catalog Station
Capture, Measure, Showcase. Revolutionizing Your Product Cataloging.
A game-changer in freight management. With three cameras for multi-angle imaging, precise measurements, and direct integration with Shopify, it offers a one-stop solution for all your freight needs. Capture high-resolution images and dimensions in seconds, and streamline your logistics process with this innovative tool that fits perfectly on a table.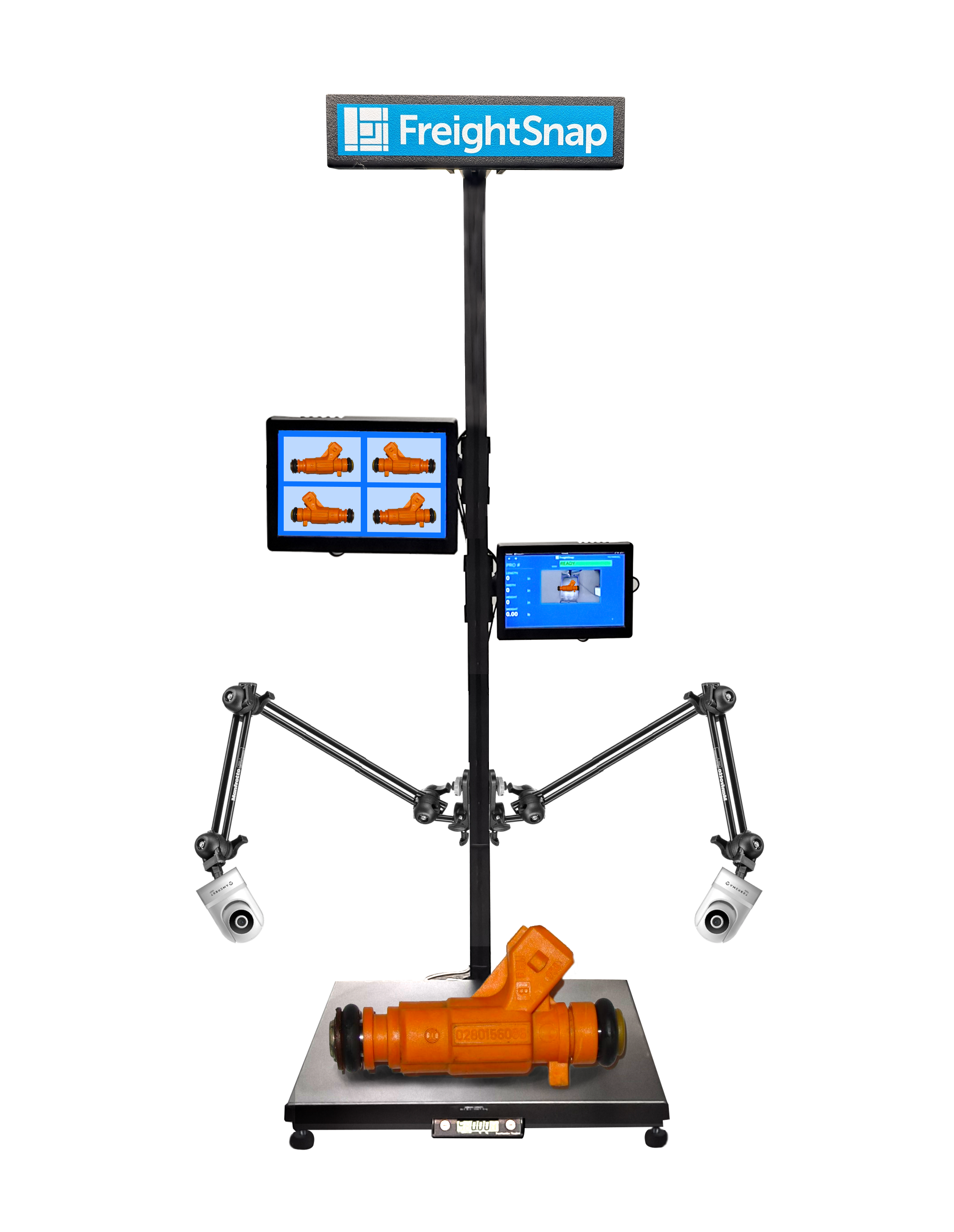 Mobile Solutions
Smart Freight Management. Measure, Document, and Share on the Go.
Transform freight documentation with FreightSnap's Mobile Solutions. Utilize the FS Mobile AR app to enter shipping details, capture photos, and measure palletized freight with AR, all within 30 to 60 seconds. Save and share data effortlessly through the FreightSnap cloud, bringing efficiency and convenience to your fingertips.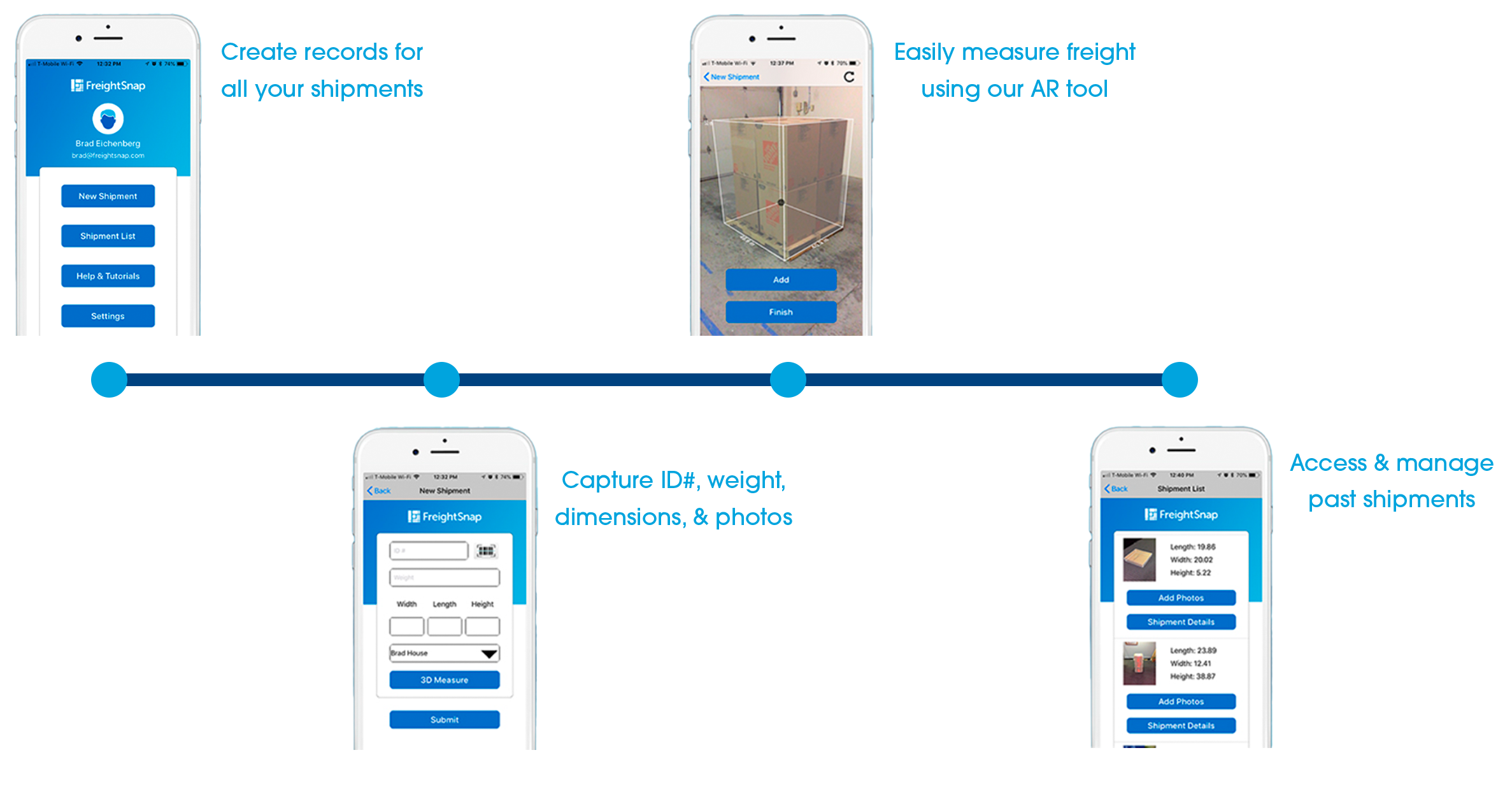 Custom Solutions
Your Vision, Our Expertise. Unleashing the Power of Customized Dimensioning.
FreightSnap's Custom Solutions offer tailored dimensioning experiences to meet your unique needs. From hardware and software customization to advanced 3D vision systems and AI, we provide innovative solutions that enhance operational efficiency, aligning perfectly with your business goals.