In short, no. FreightSnap Dimensioners are utilized widely across the United States, Canada, and growing worldwide. A FreightSnap Pallet Dimensioner is indeed one of the most affordable options for measuring palletized freight of any size and height, but it is also recognized as the best value in the Dimensioner marketplace. As a result, companies of any size who look to optimize their investments will always look at value versus price.
There are two types of customers who utilize FreightSnap Dimensioners. Those companies that haul freight and charge for that service. Those would be LTL Carriers, Freight Forwarders who ship overseas, and Air Freight companies. The second type of company that uses FreightSnap Dimensioners is those who are charged for the freight they ship. The customers of the first type. Most of these companies are Manufacturers and Distributors.
Now that we've broken down the types of companies, let's take a look at who some of these companies are that utilize FreightSnap Dimensioners. Our largest customer is Estes Express Lines, they are a national Less Than Truckload Carrier with over 350 terminals across the United States. Estes Express Lines has acquired over 230 Dimensioners deployed in every major city. Estes Express Lines is recognized as one of the 10 largest Less Than Truckload Carriers in the United States. Other Less Than Truckload Carriers utilizing FreightSnap Dimensioners include Averitt Express, YRC / Reddaway, Oak Harbor Freight Lines, Dependable Highway Express, Daylight Transport, Cross County Couriers, Ward Transport, Southwest Motor Freight, Moran Transportation, and The Custom Companies. Several top 10 Carriers have committed to purchase FreightSnap Dimensioners in 2021.
Of the four major airlines hauling air freight, two of them utilize FreightSnap exclusively, and the other two are looking at adding FreightSnap Dimensioners to their logistics operations. If you go beyond the major airlines, companies like Amerijet, Strat Air, and many others who handle air freight, count on FreightSnap Dimensioners in their package handling operations.
International Freight Forwarding has become one of the largest customer groups utilizing FreightSnap Pallet Dimensioners. After the World Cargo Alliance endorsed FreightSnap Dimensioners, Freight Forwarders worldwide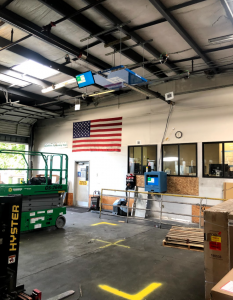 have been implementing our Dimensioners into their cargo operations. Companies like DB Schenker, Panalpina, and Kuehne + Nagel are large global companies currently implementing FreightSnap Dimensioners in their operation. While it is great to have large global companies utilizing your products, smaller more nimble freight forwarders are streamlining their operations utilizing FreightSnap Dimensioners. Companies like Approved Freight Forwarders, JP Hall, Interport, Alexim Trading, Concepts in Freight, Guava International, Krystal Logistics, and many more are seeing the value of our products.
As the U.S. transitions to dimensional pricing on freight, manufacturers, and distributors are looking to automate their shipping processes. FreightSnap is leading the way in this market segment. In just a short time, FreightSnap has announced major customer additions. Companies like Hewlitt Packard, Nystrom, General Motors, Lozier, Nilfisk,
Setina, Aramco, Auto Metals Direct, NDS, Flexaust, Elegant Lighting, Texcel, and many others are modernizing their shipping and logistics with FreightSnap Dimensioners.
Whether you are a global company with multiple worldwide Distribution Centers, an LTL Carrier, Air Freight handler, or a single dock manufacturer or Forwarder, FreightSnap's commitment to value and flexible technology make us your go-to choice in automating your weighing and dimensioning operations.
For more articles like this, subscribe to our newsletter!

Was this article helpful?

Michael Eichenberg is the co-founder and CEO of FreightSnap, allowing the supply chain, logistics, manufacturing, distribution and transportation industries to measure, weigh, photograph and ID pallets and parcels in just seconds. Learn more and share your ideas on Facebook and LinkedIn.